FI CH Aitiorannan Hugsi Husamus FI56108/10 "Huli"
C/C-hips, 0/0-knees, eyes ok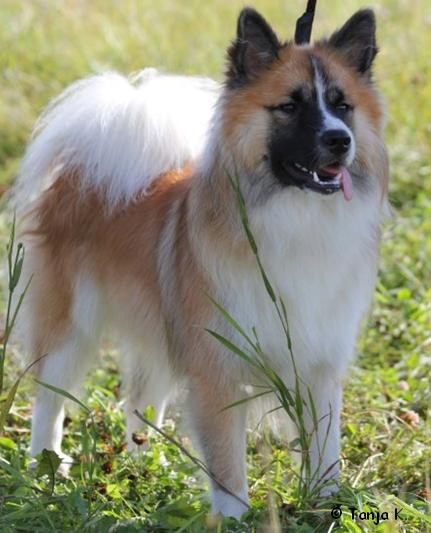 Some shows:
Clubshow 2013, Wilma Roem, Holland, BOS
2,5-years. Excellent type and size. Good bone. Very nice head with beautiful expression. Level bite, lacks 1 PM2. Beautiful eyes and ears. Well developed rib cage. Moves with very good drive, bit narrow in the rear.
Lappeenranta 1.4.2013, Anca Giura, Romania, VERY GOOD
Little bit feminine, but well balanced proportions. Correct teeth, eyes. Little too much stop. Correct dark eyes. Standing hind legs outward. Correct topline. Good position of the tail. Good quality of the coat.
Vaasa 14.4.2012, Leif-Herman Wilberg, Norway, VERY GOOD
Mycket bra typ. Fin storlek. Ganska kort. Ännu lättbygd. Huvudet skulle vidare utveckla i skallebredd. Lite för markerad stop. Normalt vinklad. Fin svans. Rör sig något hastvångt och tåvid utmärkt päls. Rör sig ostadigt fram.
Jyväskylä 20.11.2011, Tino Pehar, Kroatia, EXCELLENT
1 year old. Good size. Masculine head. Good eyeshape. Correct earset. Good topline and bodystructure for age. Slightly steep shoulder. Excellent rear angulations. In movement should be better infront.