Aitiorannan Jodis Josefina FI54457/09 "Jossu"
A-hips, 0-elbows, 0/0-knees, heart ok, eyes ok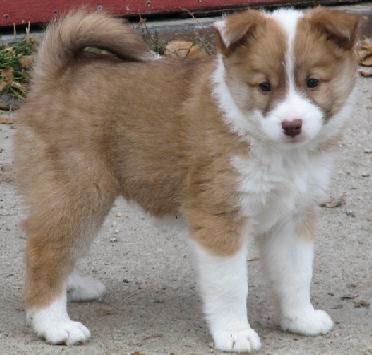 Some shows:
Tampere clubshow 2013, Wilma Roem, Holland, Excellent
Almost 4 years. Very good type. Good bone. Coat not in conditoon today. Feminin head with nice expression and good pigmentation for the colour. Nice ribcage. Good angulations in front and rear. Double dewclaws. Moves well.
Jyväskylä 20.11.2011, Tino Pehar, Kroatia, BOS (CACIB)
2-year-old. Good proportions. Good formed head. Correct earset. Very good topline and tailset. Good front. Very good movements. Not in full coat condition. Nice temperament.
Oulu 16.7.2011, Rony Doedijns, Holland, BOS (CC+CACIB)
Bitch of correct size and proportion. Feminine in head profile. Nice eyes. Correct bite. Typical topline and tailset. Very nice in front and feet. Correct in rear angulation. Nice coat quality and temperament. Dewclaws are ok. Very well presented.
Kuopio 6.8.2010, Knut Sigurd Wilberg. Norway, Excellent
Bith of excellent type. Promising. Good head. Well developed freighs.