FI CH Aitiorannan Kata Kvennagull FIN58613/08 "Kvenna"
A-hips, 0-elbows, 0-knees, eyes ok, heart ok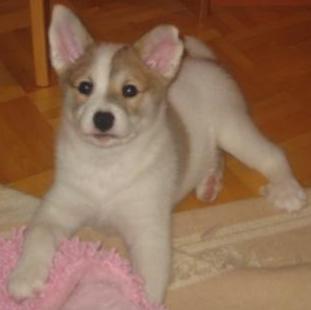 Kvenna lives with her mother.
Some shows:
Ylivieska 21.7.2018, Asta Maria Gudbergsdottir, Iceland, BOS-VET
Good size and proportions. Feminine head with nice expression. Well placed ears. Correct bite. Good neck and topline. Acceptable tailset, she could carriage her tail tail better. Well angulated front and near. Moves well from the side. Would prefer a bit stronger bone and feet. Good coat. Good temperament.
Kempele 9.6.2018 Agnete Staunsholt Nilsson, Denmark,VG
Almost 10 years. Very good type. Feminine. Correct bite. Good pigmentation. Beautiful dark eyes. Good skull. Ears are bit big, but carried well. Neck a little heavy. Straight legs, nice feet. Double dewclaws. Good depth of ribcage. Good loin. Broad, muscular thighs. Movement close in the rear, but parallel and covering the ground. Good front movement. She could benefit from more angulations on pasterns. Croup a bit too flat and tail carriage could be tighter. Nice coat&colour. Friendly temperament.
Jyväskylä 15.10.2017, Wilma Roem, Holland, VET VG
Almost 9 uear old rectangular shaped female that could have more bone. Feminine head, should be more triangular. Nice soft expression, scissorsbite. Beautiful dark eyes, wellcarried ear. Brestcage should have more spring. Moderate angulation. Double dewclaws. Short hair, good undercoat. Moves with good drive. A lot of light colour, could have more red in her.
Kuopio 6.8.2010, Knut Sigurd Wilberg, Norway, Very Good
Bitch of quite nice type. Too narrow in front. Good body. Too weak behind.
Ylivieska 18.7.2010, Manuel Loureiro Borges, Portugal, Excellent

Seinäjoki 24.10.2009, Nils-Arne Törnlöv, Sweden, JUN Excellent
Mycket tilltalande feminin juniortik av utmärkt typ. Välskured huvud med vackert uttryck. Korrekt bett, resning och rygglinje. Ännu ej färdig i kropp och front. Bra ben och tassar. Alspora. Korrekt päls. Mycket goda rörelser för åldern.
Aitiorannan kennel KASV1 KPJoensuu 16.8.2009, Ove Germundsson, Sweden, BOB-puppy
8-mån tik i stark uttväckling av rätt modell. Feminin välskuret huvud, korrekt uttryck. Utmärkt hals, stark rygg. Bra svans. Utmärkt ben, tassar och sporrar. Välformat frönt och bröstkorg. En utmärkt helhet. Mycket lovande.
Kokkola 5.7.2009, Kenneth Edh, Sweden, Puppy2
Liten och klen helhet. Något lågställt huvud men bredd i skallen och kraftigare nosparti Mörka ögon. Bra öron. Fin hals och rygglinje. Svansen bärs för lös. Goda vinklar. Skulle ha mer volym och förbröst altför tunn kropp. Fast front. Bra kort pöls.