Aitiorannan Neisti Nordur FIN58870/07 "Pöysti"
HD: CD, 0-elbows, 0-nees, heart ok, eyes ok
Deceased 24.10.2018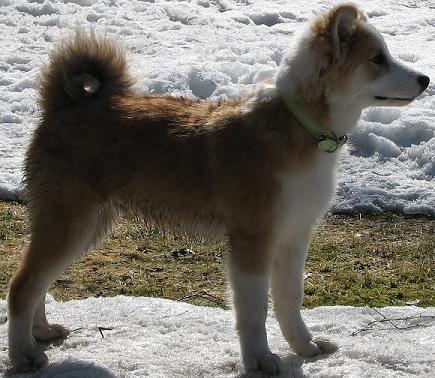 Some shows:

Kuopio 7.8.2010, Myrna Shiboleth, Israel, Excellent

Kuopio 6.8.2010, Knut-Sigurd Wilberg, Norway, Very Good

Jyväskylä 22.11.2009, Espen Engh, Norway, Sufficient
Nästän 49 cm hög. Alldeles för stor. Mycket maskulin. Maskulint huvud. Tillräcklig skallbredd, bra stop. Kunde använda sina öron bättre. Stark hals. Utätridna framtassar. Välutveckladkropp. Välansatt svans, något lätt vinglad. Måste stabiliseras i haserna. Väcker päls och färg. Rör sig ostabilt fram och bak, rätt ovilligt från sidan.
Joensuu 16.8.2009, Ove Germundsson, Sweden, Excellent
20-månad have en bra model. Mycket maskulin välskuret huvud. Korrekt uttryck. Utmärkt hals. Mycket välrullad svans. Ännu något fattig i fronten. Bra ben, tassar och sporrar. Rör sig utmärkt bak och från sidar, något lös fran. Bra päls.
Iisalmi 2.8.2009, Petru Muntean, Romania, BOS
20 months old male. Excellent type. Very well balanced. Good head. Correct bite. Excellent bodystructure. Correct angulations. Good coat, pigmentation and movement.
Kuopio 3.8.2008, Ove Germundsson, Sweden, BOB-puppy
Rejäl 8-mån hane som ej får bli större. Bra skalle, välplacerande öron. Bra ögon och bett. Utmärkt hals, rygg och svans. Mycket välformad front och bröstkorg. Bra ben och tassar. Enkel sporr höger bak, dubbelsporr i vänster bak. Mycket lovande.
Kuopio 2.8.2008, Gert Christensen, Denmark, BOS-puppy
8 months. Masculine head and expression. Scissor bite. Nice dark eyes. Good skull. A little broad set ears. Good neck and top line. The body in a longest. Well angulated. Single dewclaw. Has to stabilize in front movement. Good coat.
Kuopio 1.8.2008 clubshow, Eli Marie Klepp, Norway, BOS-puppy
Masculine male of 8 months. Nice head and expression. Very good under jaw. A little bit wide set ears. Well angulated shoulders. A bit long in the body. OK tail set. A bit loose in front which will be better in age. Double toes behind one better than the other.