Aitiorannan Ölvaldi ER17174/02 "Valtsu"
Hips A/A, elbows 0/0, knees 0/0, eyes ok, heart ok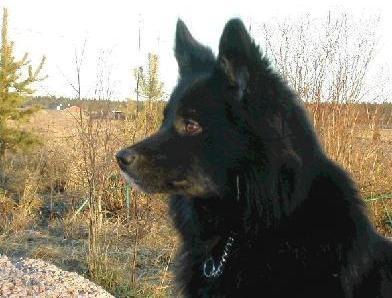 Deceased 2/2017
Some dogshows/Några utställningar:
Liminka Clubshow 11.6.2005, Sigridur Petursdottir (ISL): Very Goog
Very nice dog with good expression. Well set rather big ears. Strong back. Rather short body. Well angulated. Missing one premolar upper left. Very good coat.
Leppävirta 29.5.2005, Mona Selbach (N): Very good
Good type. Slightly big ears. Good mouth. Slightly short in body. Well set tail. Good legs & feet, alspora on backlegs. Not in his best coat. Good color.
Oulu 7.5.2005, Karl-Erik Johansson (S): Good
Medelstor. God typ. Typisk maskulin huvud. Stora öron. Bruna Ögon. Bra bett. Bra hals. Rak men kort ut. Bra svans. Borde ha mer bröstkorg. Tillräckliga vinklar. Dålig utveckla dubbla sporrar bak. Rör sig med kort steg.
Helsinki 6.12.2003, Eivind Mjaerum (N): Good
Mycket god typ. Ganska kort och kvadratisk. Välskuret huvud. Saxbett. Kunde gärna vara ännu mera maskulin, men allt står i förhållande. Tillräcklig benstomme. Rör sig bra. Bra päls. Gott framvisad.
Seinäjoki 26.10.2003, Hassi Assenmavher-Feyel (GER): Very good
18 months. Small size. Strong head. Skull a bit round. Good stop, eyes and ears. Correct neck. Good topline. Correct ribcage and front. Enough angulation behind. Moves quite well. Good coat. Nice temperament.
Leppävirta 18.5.2003, Rita van Mechelen: Very Good
Good proportions. Correct bite. Dog which needs more time. Bit flat in ribs. Good tail set. A bit narrow in front. Has to stabilize in the movement.